SUGAR AND SPICE SOAP COMPANY
Regular price
Sale price
$24.00
Unit price
per
Sale
Sold out
Tame. Nourish. Moisturize. Grow.

Our all-natural formula of luxurious, plant based oils will help you not only nourish your beard, but this oil gets down to the root to nourish your skin to help promote a healthier and more even growth. 
INGREDIENTS
Grapeseed Oil- is a very lightweight oil that is full of vitamin E. Grapeseed oil nourishes the hair without leaving it greasy or weighed down.
Argan Oil- an excellent hydrator, Argan oil is also rich in vitamins, minerals, and antioxidants. It has recently gained popularity in hair products because of its ability to soften hair and help minimize hair breakage.
Jojoba Oil- This oil is so good for your hair, but especially for the skin. We all know that a great beard comes from healthy skin. Jojoba is full of vitamins and minerals that nourish each hair and the moisturizing effects it has on the skin can help minimize flaking and dryness.
Broccoli Seed Oil- full of omega 3s, 6s, and 9s, a light, non-greasy oil that packs a punch of healthy moisture. Broccoli seed oil is able to help control those frizzy strays and improve the shine in your beard.
Castor Oil- a very lubricating natural oil that increases shine, which makes for a very healthy-looking beard. Its nourishing fatty acid profile and a large number of vitamins and minerals will hydrate your beard and give you control of your beard shape.
Olive Oil- a lightweight, non comedogenic conditioning oil with antibacterial properties to keep your beard clean and moisturized. Olive oil is full of vitamin E, which is a great antioxidant which has the ability to penetrate the hair shaft and deliver the nourishing properties deeper than surface level
Our oil blend comes in an elegant, 2 ounce amber glass bottle to prolong the life of your oil. 
View full details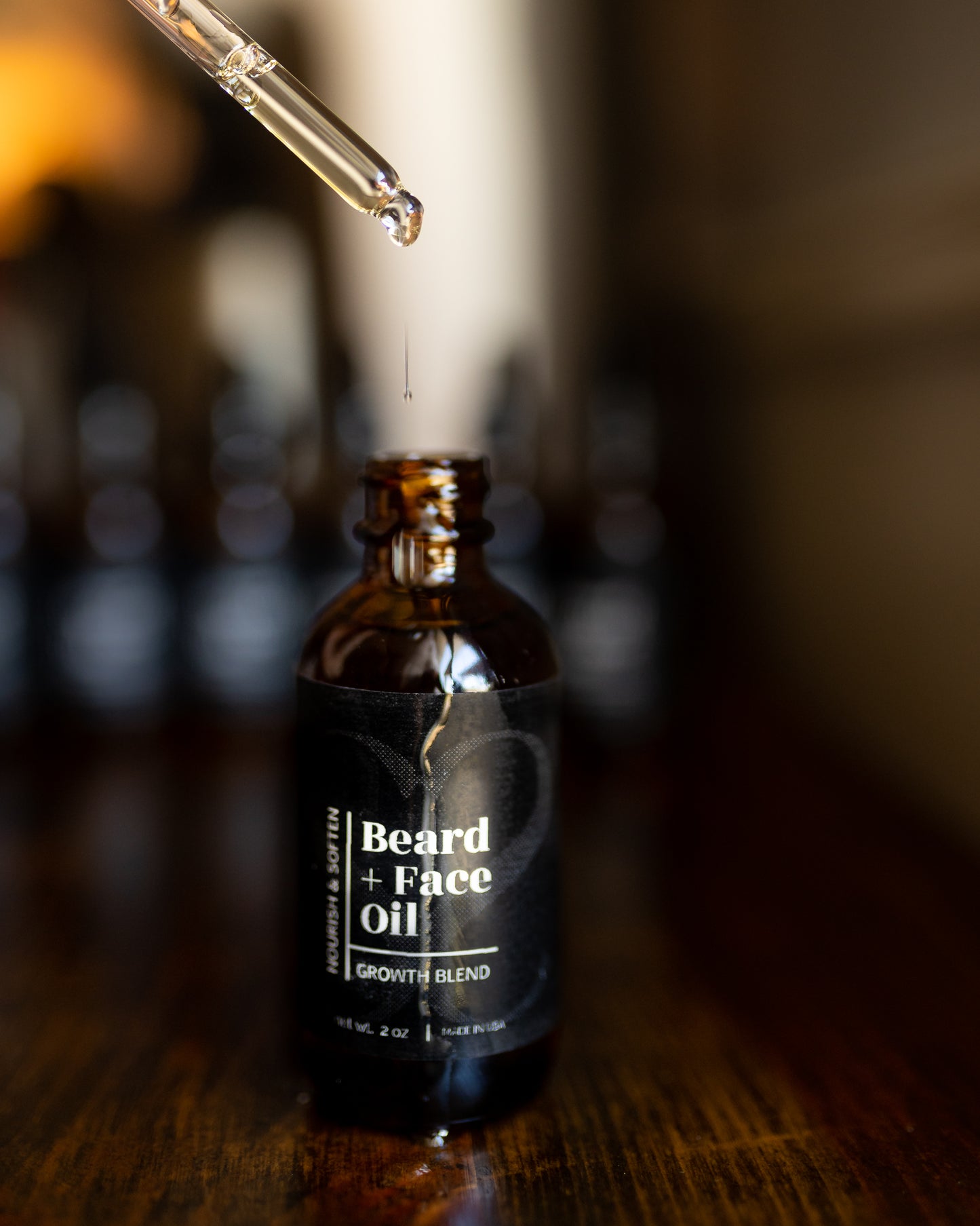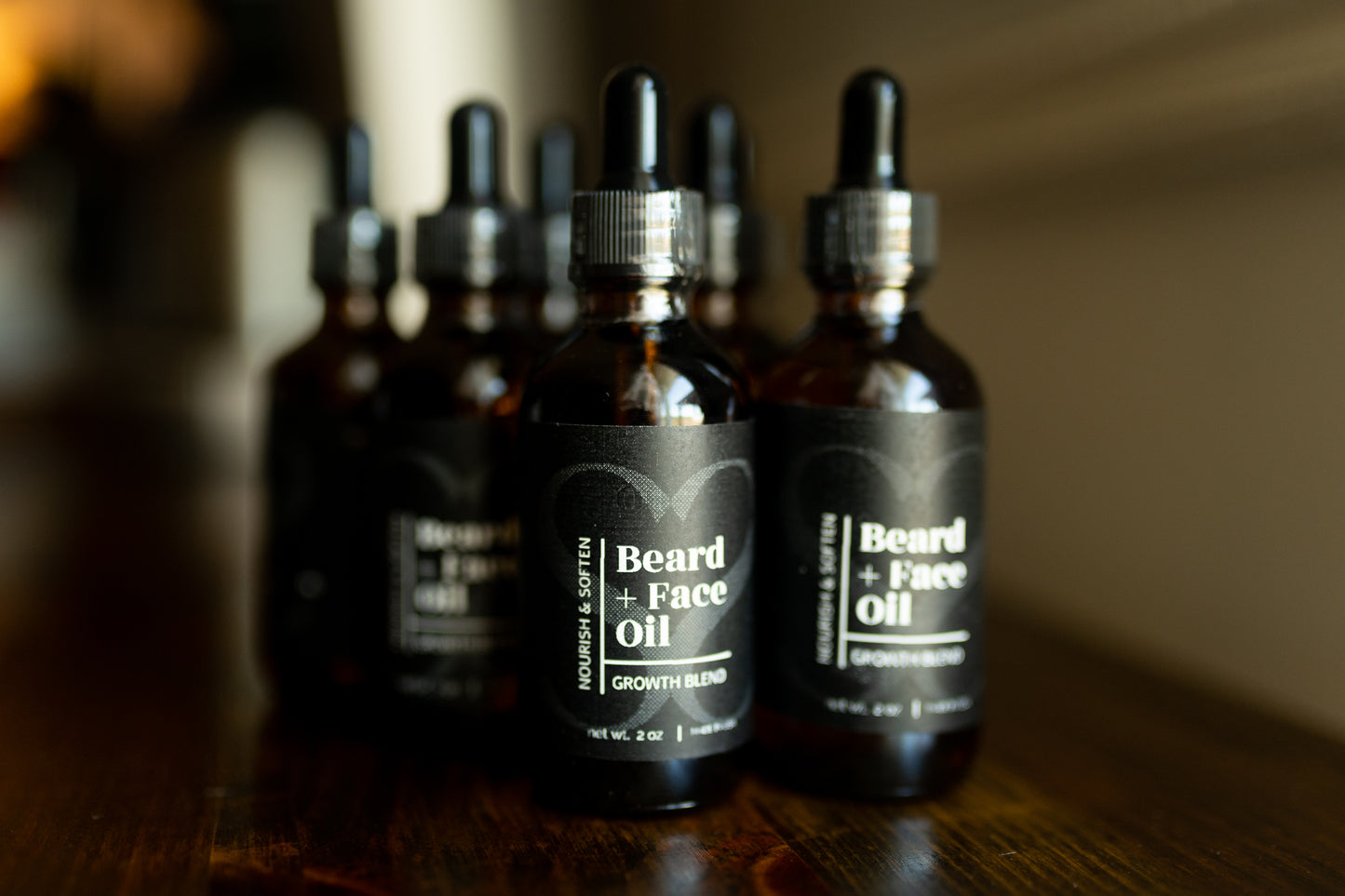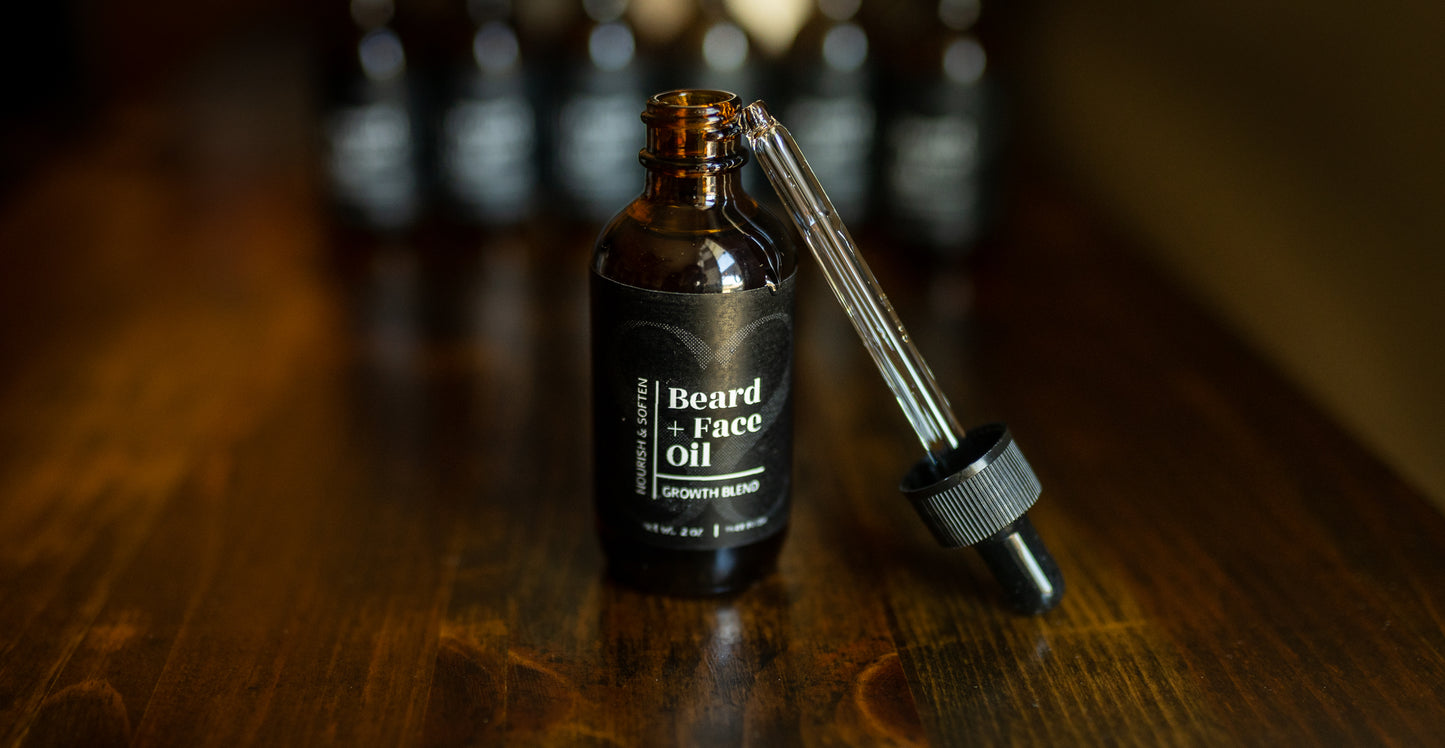 Plant-Based Skin Nourishing Ingredients
Scent

Essential Oil Blend of Sweet Orange, and Eucalyptus
We wanted to include oils that could help with hair health and growth. Both are great for skin relief and assisting with skin and hair health. This combination gives an uplifting aroma but also give that added benefit of helping with skin clarity.

Phthalate Free Mahoghany Teakwood Fragrance- A beautiful woodsy blend that is a new favorite and adds a masculine hint of scent to our beard oil. This scent features mild top notes of citrus, middle notes of lily of the valley jasmine and rose and base notes of teakwood, musk and vanilla
Ingredients

Grapeseed Oil, Argan Oil, Jojoba Oil, Broccoli Seed Oil, Castor Oil, Olive Oil, Essential Oil Blend, Phthalate Free Fragrance